Glass & Oxygen Burners
04V
The 04V is a highly versatile air-fuel burner designed for use in recuperative glass melting applications. It utilizes pre-heated combustion air to improve fuel savings.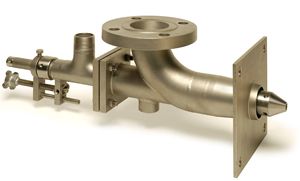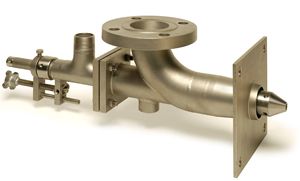 The 04V air-gas mixing head burner is suitable for many glass furnace applications, from small daily cycle glass tanks, floating glass furnaces, refining and distributors, to large recovery furnaces with multi-burner systems. A recuperator or other system provides preheated combustion air to the burner. By using preheated combustion air, you can achieve an increase in fuel economy. 04V burners can be installed in several types of continuous furnace both on the sides and at the ends. It can be used with any clean industrial gas and / or fuel oil with the appropriate viscosity. Features & Benefits: • Hot/Cold Air - Combination Fuel Oil & Gas. • Recuperative furnace operation. • Long life stainless steel construction. • Standard models to 1200 Degrees F (649 Deg. C), special models to 1400 Degrees F (760 Deg. C). • Improved adjustable gas orifice for better flame shape control. • Oil uses atomizing air or steam to 40 psig (2.76 bars). • Variable oil flame shaping capability. • Pre-heated combustion air provides fuel savings up to 45%. • Adjustable air for additional flame shape control or capacity requirements.
Sales Sheet
Name
Description
File Size
Date
Size
Name
Description
File Size
Date
Size

10007859-048
TB,OIL,ASSY,04V,ADJ OIL LNC,3/8 IN. DIA.

10007859-026
TB,OIL,ASSY,04V,ADJ OIL LNC,3/8 IN. DIA.

10025625-019
TB,AIR,ATM,ASY,04V,8 IN. HAB,1.625 IN. D

015103-035
GAS LNC ASSY,04V,2 1/2 IN.,33.563 IN. LE

015161-035
TB,AIR,ASSY,D/F,04V,1 3/8 IN. DIA.,38.12

014074-035
BDY,BRNR,ASSY,04V,5 IN.,28.00 IN. LG,2 1

014074-033
BRNR BDY ASSY,04V,5 IN.,27.50 IN. LG,2 1

018305-2
ROD,POS INDCTR,4.00 IN. LENG,304SS,CT BU

018566-045
BRNR BDY ASSY,04V,4 IN.,26.25 IN. OAL,2

018739-048
BRNR,04V,2 1/2 IN.,GAS ONLY,36.81 IN. LG